We offer a workout that you can sink your teeth into!
JawlineMe™ has been designed to reproduce the entire motion range of your bite with varied resistance levels to help you activating your facial muscles and getting a perfect jawline. Simply by putting the Jawline Fitness Ball & Facial Toner in your mouth, place your teeth within the bite strips and start chewing. If it doesn't fit comfortably, you can put the JawlineMe™ Fitness Ball & Facial Toner in a pot of boiling water for 3-6 seconds, let it slightly cool off, and put it back in to your mouth. That should give you additional comfort! 
Here is a quick Step-By-Step guide to show you how easy it works:
We highly recommend that you begin with the lowest level of resistance and gradually work yourself up when you feel that your facial muscles are getting tighter and stronger.  We recommend that you carry out this exercise regimen for about ten to fifteen minutes every day or every other day for good results. You can do all this at home. There is no need to venture out unless you want of course!  
Our JawlineMe™ Fitness Ball & Facial Toner has been designed exclusively to help you work out a comprehensive range of motions into that all-important bite. This helps in giving you a fuller and stronger look when it comes to your facial muscles. Forget about all those face fillers and Botox treatment. Rising from low resistance to higher levels, this highly affordable tool will give more tone and a youthful appearance to your face.  
This is how it looks when you exercise with JawlineMe™: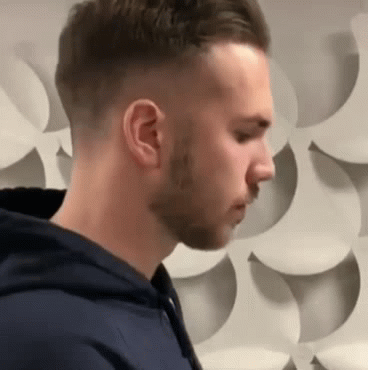 - Super easy right!?
If you think that you've done a complete full-body workout before, let us tell you that there are fifty-seven muscles in your face and neck! You need to put them through an adequate workout in order to get a more handsome jawline and a distinctive facial look. The cosmetics industry is earning billions of dollars by influencing people to go through facial surgeries and painful and invasive injections that do not bring in satisfactory and long-lasting results. People are simply tired of going through these expensive rituals. Next time, you want a jawline strengthened, think of JawlineMe™ for a more aesthetic and healthier facial appearance.
Instructions For Custom Molding 
* Get a small pot of water to boil fully. Then, place the Jaw Ball in that pot, gently with the help of a slotted spoon for 3 - 6 seconds.
* Remove it from the boiling water and give it a quick shake to rinse off excess water.
* Use a mirror to ensure that JawlineMe's logo faces outwards and that you have the right side up. Line up all those clear biting strips with the top and bottom front teeth of yours.
* Bite into the Jaw Ball and use sufficient pressure so that your teeth make an impression. Hold it for about ten seconds and remove it after rinsing under cold tap water for it to set.
So, what are you waiting for? Get yourself a leaner face, starting today! Get a jaw dropping jaw and an aesthetic facial look, let us start chewing!
 
GET JAWLINEME